Best Beach Destination Wedding Locations In India!
Brides! If your wedding date is finally fixed so first of all congratulations on the same. I am sure that you must have started searching and curating the best wedding invites, outfits,etc. for your wedding! But what about the venue, ladies? Having a fantasy world to get married beside a beach is something we all dream, right?
So, how about we make your dream come true! Yes, you too can get hitched at a beach destination wedding location in India (say no to locations outside India) that will not only save your money but also give you your dream wedding venue for the most special day of your life! So, here we are with top 4 best and most beautiful beach destination wedding locations (*including hotels & resorts) and that too in India, with prices!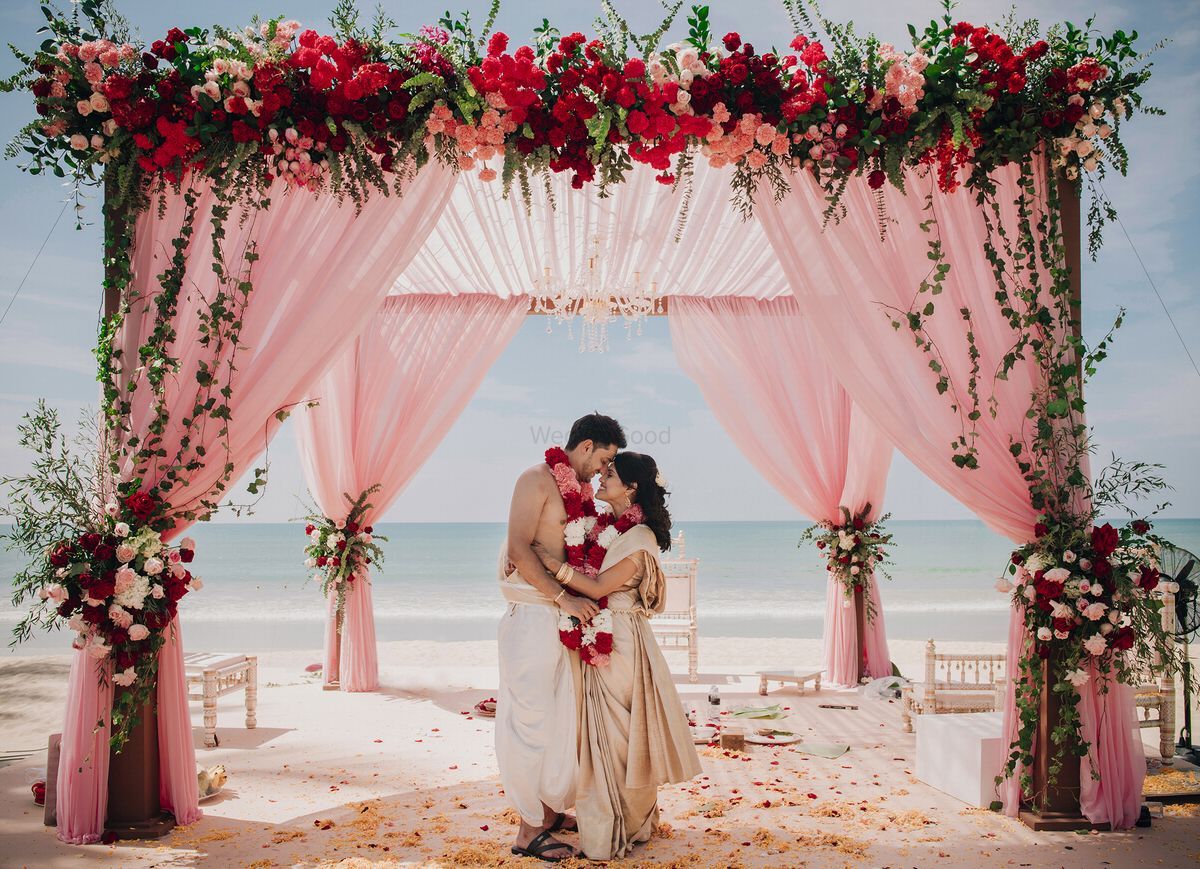 Kerala: The Land of God & Coconuts
Kerala, the land of god and temples is something we all are well aware of. Situated on the Malabar Coast this divine place is known for its palm-lined beaches, backwaters, temples and canals that makes it a beautiful place to get hitched. Whether you want to sip famous hot coffee with your bae or celebrate your ceremonies surrounded by majestic wildlife, Kerala is a popular location for destination beach wedding that will offer you with blessings and beauty for your most special day of life.
Best Time To Get Married: October to March
The Gateway Hotel Janardhanapuram, Varkala
If there is one such divine place on this earth that has breathtaking temples and lakes to mesmerise, then we can surely vouch for Varkala in Kerala. Perched along the edge of towering cliffs, The Gateway Hotel Janardhanapuram, Varkala is designed in bohemian style and has beautiful rooms and suites to accommodate their guests.
Be it your pellikuthuru or a South Indian wedding, they have various banquet halls so that each event can be celebrated with all the modern amenities. With it's charming destination beauty they have tranquil ambiance & international gourmet food to offer to their clients. So, brides! Whether you want to celebrate a few of your nuptial ceremonies or your most special day of life this is one such place to dive in!
Accommodation: Standard garden facing & executive rooms & suites
Price of room per day: Rs. 10k and onward
Wedding Space:
The Pandal – 450 pax
The Wimbledon banquet hall – 40 pax
India's only clifftop beach resort -Leela Kovalam is a beautiful hotel that is famous for its great hospitality and services. With a majestic coastline and three idyllic crescent-shaped beaches the Kovalam city is known as the beach town of Kerala. If you want to dig into authentic South Indian food or gourmet cuisines & get hitched beside a beach with tall trees of coconut, then we highly recommend you to select this breathtaking hotel for your wedding celebrations!
Accommodation: 125 garden & beach view rooms, 49 club rooms & 9 suites
Price of room per day: Rs. 14k and onward
Wedding Space:
Convention center – 900 pax
Space Frame / Pandhal – 600 pax
Maya lawn –  80 pax

Photo Courtesy: The Leela Palaces Hotels and Resorts
Kumarakom Lake Resort
Situated on the banks of the serene Vembanad lake in Kerala the Kumarakom Lake Resort has a beautiful landscape that will not only rejuvenate your senses from the wedding madness but also give you a fantastic wedding experience. From luxurious villas and suites to spacious banquet halls and lawns this resort ensures to give a world-class hospitality with their services to its guests. So, if you're planning to get hitched in the city of temples and lakes, then surely Kumarakom Lake Resort is your ideal hotel for your wedding day!
Accommodation: Presidential suites, lake villas, houseboat, pavilion rooms
Price of room per day: Rs. 23k and onward
Wedding Space:
Poolside venue – 200 pax
Bedecked boat – 100 pax
Banquet hall – 150 pax
Wedding lawn – 400 pax

Photo Courtesy: Kumarakom Lake Resort
Mahabalipuram: The land of 
rock-cut statues
Want to get married in a temple that is next to a beach? Mahabalipuram is a dreamy place if you're planning to get hitched here. From stunning beaches to temples, monuments and majestic beauty this pristine and historic town welcomes its guests graciously. With delicious and authentic South Indian cuisine to spacious & luxurious resorts, this land of rock-cut statues will be a perfect beach destination wedding location to visit for your big day!
Best Time To Get Married: Between November to February
Radisson 

Blu

 Resort Temple Bay, Mamallapuram
Understanding the importance of weddings the Radisson Blu Resort Temple Bay Mamallapuram is a luxurious hotel that provides wedding planners and ensures that every occasion is well planned and organised at their property. Situated on the pristine Coromandel Coast this place is an idyllic backdrop overlooking the Bay of Bengal where you will get the stunning wedding photographs for sure. Offering in-house services to their clients they give International & Indian cuisines that are made by world-class chefs.
Not only this the Radisson Blu Resort Temple Bay Mamallapuram understands the stressful situations in the wedding and thus, provides with a range of holistic wellness treatments like spa & fitness center to their guests. Whether you're looking for well-equipped room with a private pool or a spacious ballroom for your ceremonies this hotel is a renowned place all over the country.
Accommodation: 157 chalets, villas, bungalows and suites
Price of room per day: Rs. 8k and 

onward

Wedding Space: Grand ballroom & lawn